Our shipping schedule changes depending on the time of the year and the temperature in your state. See below for our typical shipping policies during the respective seasons. If you need to request a change in your shipping date contact Customer Service.
We can not ship potted items to Hawaii.
Orders placed after March 24th, 2023 that are scheduled to ship to the following states: AL, AR, FL, GA, LA, SC, TX, NC, MS, CA, AZ, and NV will not qualify for the Raintree Guarantee. We encourage you to wait and place a Fall 2023 order!
Spring 2024 Shipping Season Schedule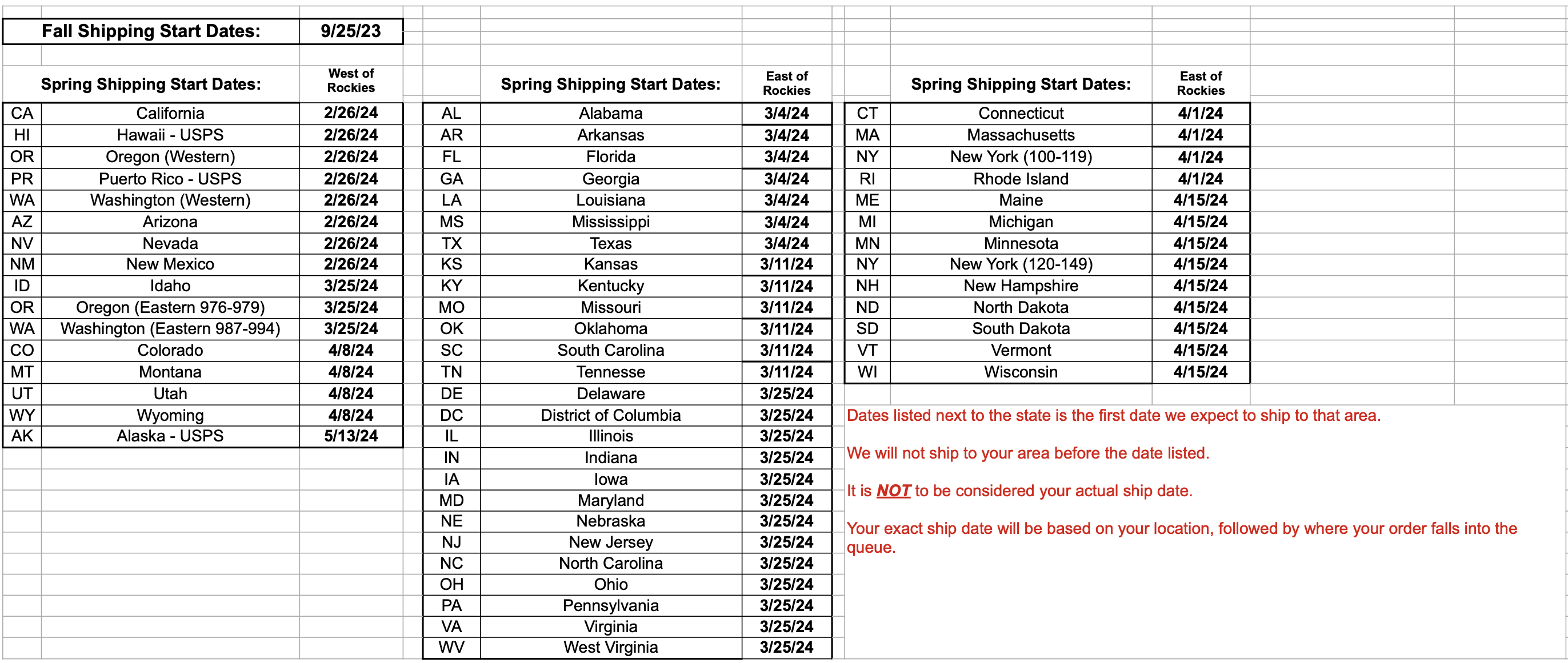 The table above shows the date that we plan to begin shipping to your state. We base these dates on the average weather conditions in your location at that time of the year related to your optimal planting time and our ability to get your order to you.
Typically from Late-January through May, we ship most of our orders during this time frame.
Pre-Ordered orders start shipping late January, weather permitting. We prioritize orders to western locations first. For customers in HI and PR, we will begin shipping to you in late January. We start to ship to AK mid-May. Due to the high volume of orders or inclement weather, it may take multiple weeks to ship your order. In these cases, we will try to get your order to you at your optimal planting time.
Requested select ship dates will be honored to the best of our ability but cannot be guaranteed. When you place your order, the ship date given to you is not an exact ship date but rather the estimated shipping week based on our average shipping times. Most orders ship via UPS Ground. For customers in AK, HI, and PR, we can only ship to you via USPS.