UPDATE: As of 5/2/22 we are no longer accepting bare root orders. At this point, the shipping schedule is based on a queue, not on weather or location. We are working to ship out orders as quickly as possible in the order they are received. Thank you and happy growing!
NOTE: As of 3/21/21, If your daytime temperatures are mid-70's or higher, we suggest you do not order for this year as bare root tree plants do not thrive as well and require a greater amount of attention, care, and water to survive.
Typically, those states experiencing warm Spring weather as of March, April and May are:
AL, AR, AZ, FL, GA, KS, KY, LA, MS, NC, NM, NV, OK, SC, TN, TX, WV, & Southern CA.
Our shipping schedule changes depending on the time of the year and the temperature in your state. See below for our typical shipping policies during the respective seasons. If you need to request a change in your shipping date contact Customer Service.
We can not ship potted items to Hawaii.
Spring 2022 Shipping Season Schedule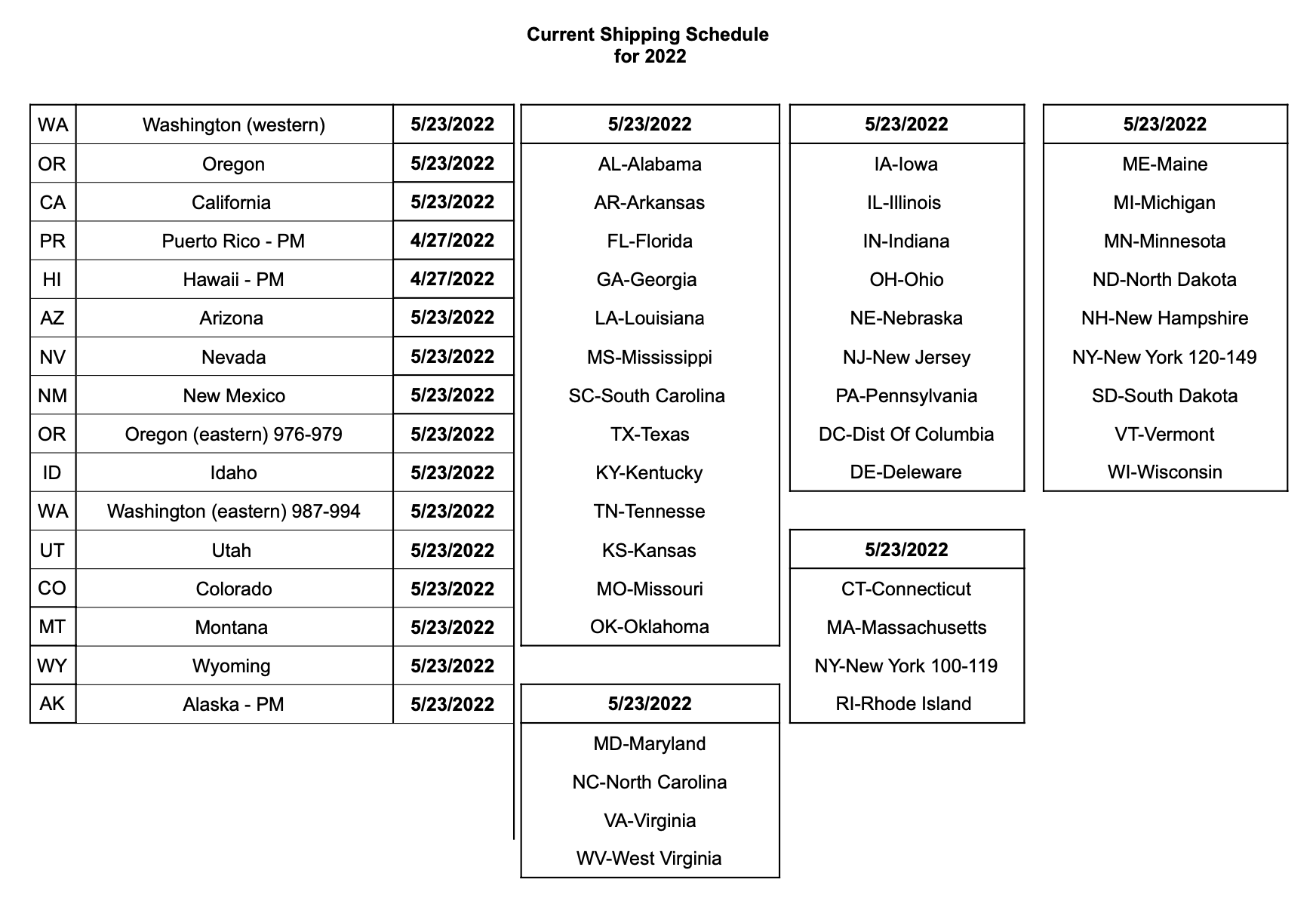 The table above shows the date that we plan to begin shipping to your state. If your state has the word "full" your order will ship on the next truck headed to your region - typically within one week. We base these dates on the average weather conditions in your location at that time of the year related to your optimal planting time and our ability to get your order to you.
Typically from Late-January through May, we ship most of our orders during this time frame.
Pre-Ordered orders start shipping late January, weather permitting. We prioritize orders to western locations first. For customers in HI and PR, we will begin shipping to you in late January. We start to ship into south AK in mid-April and the rest of AK mid-May. Due to the high volume of orders or inclement weather, it may take multiple weeks to ship your order. In these cases, we will try to get your order to you at your optimal planting time.
Requested select ship dates will be honored to the best of our ability but cannot be guaranteed. Beginning mid-March, our first zone skip truck is scheduled to ship out, starting with southern states and alternating weekly to northern areas as the weather warms. On alternate weeks we will continue shipping to western locations in the same manner. When you place your order, the ship date given to you is not an exact ship date but rather the estimated shipping week based on our average shipping times. Most orders ship via UPS Ground. For customers in AK, HI, and PR, we can only ship to you via USPS.